Welcome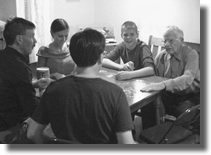 Senior Mediation and Decision-Making, Inc. (SMDM), is a non-profit organization that promotes the development and provision of mediation, facilitation, coaching and related approaches to assist older persons, their families, and others have difficult conversations and make decisions, plan for the future, and prevent and resolve conflict around the transitions we may confront as we age.
Headquartered in Baltimore, Maryland, you can reach us at (410) 669-7587.
Bob Rhudy can be contacted via bobrhudy@yahoo.com.
Learn more about our Board of Directors and Advisory Committee.